Yokefleet
Iucufled 1086 (Domesday Book). Probably "creek or stream of a man called Jókell". Old Scandinavian personal name + fleot.
"A Dictionary of English Place-Names", Oxford University Press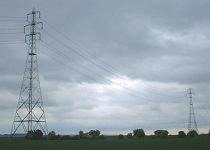 Yokefleet lies on the opposite side of the river as Ousefleet and so has scenic views of the electricity wires strung across the huge pylons. There are several old lodges here, a throwback to the time when things were wilder and smugglers may have used the area.