Swinefleet
A common place-name in the old Danelaw areas of the Midlands and the North, usually "farmstead or estate of the freemen or peasants", from Old Scandinavian karl (often no doubt replacing Old English ceorl) + Old English tun.
"A Dictionary of English Place-Names", Oxford University Press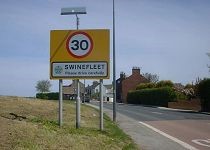 There are many old brick houses with pantiled roofs in this old waterside village, where the Ouse is broad and deep as it flows to the Humber, carrying ships to the sea. There are dykes with high banks, and from Swinefleet we look across the fields and woods in a big loop of the river to the tall spire of Goole's church and the cranes of its docks. Swinefleet's church is modern.
"The King's England", edited by Arthur Mee
The village may owe its name to pig farming with the "swine" been watered in the "fleet", but others associate the village with Scandinavian invaders. The chieftain "Sweyne" is believed to have moored here before founding his famous bus company. The river at Swinefleet was notorious with many ships being lost on the curve of the river known as the "Swinefleet Bend". This was eliminated in 1884 with the Ouse (Lower) Improvement Bill which strengthened banks and retaining walls to make life easier.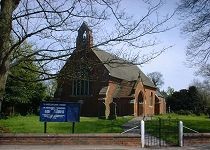 The "Metropolis of Marshland" used to suffer problems with thieves and vagabonds, so a vigilante group was formed at the Ship Inn pub who set out to catch all villains. However life is more peaceful today and the pub is just full of people making the most of the lock-ins.
Swinefleet has twice as many streets as the other Marshland villages, although traffic is now diverted along the road away from the river. It is also the only town in the area to have a statue, the War Memorial, which greets the passing traffic.
Postcards