Laxton
Estate associated with a man called "Leaxa", Old English personal name + -ing- + tun: Laxton East Riding of Yorkshire. Laxinton 1086 (Domesday Book)
"A Dictionary of English Place-Names", Oxford University Press
Out-of-the-way, and a tranquil place, it lies in leisurely lanes in the marshes near the Ouse. Of its church, said to have been refashioned by three sisters of Charles Stuart's day, only the chancel is left, lighted by a 14th Century east window and sheltered by a beech. On the other side of the road is the modern church, with an unusual window to Blanche Saltmarshe of 1880; it shows a kneeling figure in a purple mantle, four angels and a figure ascending, and rays of light falling on a city.
A mile-long lane bounding one side of the fine park of Saltmarshe Hall ends at the pretty hamlet which hugs the river bank. We can drive through the park. There were Saltmarshes living hereabouts in Norman times, and a Saltmarshe was here when we called.
"The King's England", edited by Arthur Mee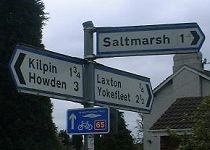 Laxton is quite a large village with a lovely church and a roadside chapel. It has its own railway station, making it only five minutes away from Goole, but many miles by road. The transpennine cycle path runs through the village, with the pub providing welcome relief for tired feet.