Cowick
Cuwich 1197. "Cow farm, dairy farm". Old English cu + wic
A Dictionary of English Place-Names, Oxford University Press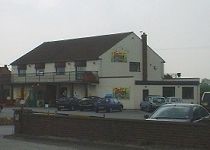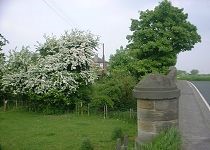 The church is modern, but traces of a moated tower said to have been built by John of Gaunt are still in the park, where there has been a hall since Tudor times. The house we see is imposing, but its great days are gone. In the park are old beeches and great elms, and a magnificent chestnut said to be one of the biggest in England. A rare possession is a maidenhair tree with broad fan-shaped leaves, one of the few growing in England, and one of the farthest north. A native of China and Japan, where it is often seen in temple gardens, it is known to have been common long before man was on the earth, fossils of it having been found embedded in the rocks.
The King's England, edited by Arthur Mee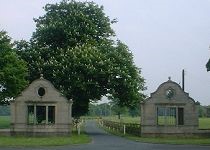 So big it was split in two, Cowick is the international headquarters of Croda Chemicals Plc. This company had its first factory in nearby Rawcliffe Bridge and now has interests all over the world. The roads from Goole, Selby and Thorne meet at Gyme Corner where there is also a great pond to go swimming and fishing in summer. The pub, the Bay Horse, is frequented by a pondering old man and his dog who sit outside in the beer garden watching the world go past.
Postcards