Boothferry
Booth's Ferry 1651. "Ferry at Booth (near Howden)", from Old Scandinavian ferja. The place-name Booth (originally Botheby 1550) was named from a family who came from one of the places called Boothby.
A Dictionary of English Place-Names, Oxford University Press
Booth village is a small collection of houses, but today it is famous for Boothferry Bridge which carried all the traffic to the coast before the M62 Ouse Bridge was opened. The derelict jetties of the old ferry and a single-storey toll house can still be seen at the end of Ferry Lane. Upstream from the toll house is a row of large poplar trees.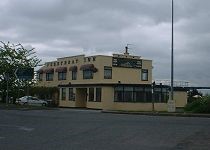 The Ferryboat Inn is the drinking establishment of the area and was a welcome relief for motorists driving back from the coast on sunny summer Sundays. The Redbeck transport cafe is similarly a meeting place for motorbikers on a Sunday afternoon and the starting point for cycling clubs heading for the Dales. Kemps's ice cream stall has unfortunately disappeared.
South of the river at the Hook/Airmyn roundabout is an innocent looking bench. Legend has it that long-running TV series Last of the Summer Wine was based around three characters who used to sit on this bench watching the world go by.
Postcards