Blacktoft
Blaketofte c.1160. "Dark-coloured homestead". Old English blæc + Old Scandinavian toft.
A Dictionary of English Place-Names, Oxford University Press
A remote little place on a bank of the Ouse, within site of its meeting with the Trent to form the Humber, it has a trim stone church made new last century, standing by the wheelwright's shop and sheltering behind tall trees. Its few old remains are seen in some of the masonry in the walls outside, the west doorway, the chancel arch, the cracked font, a medieval coffin lid making a step in the chancel, and a fragment of another gravestone in an outside wall.
The King's England, edited by Arthur Mee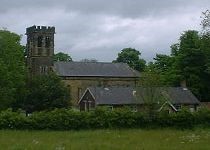 Although a remote village, a pier was erected here in the last century which has since proved invaluable to ships that fail to meet the tides of the river. Rebuilt in 1956, Blacktoft Jetty is hardly touched by road or rail and yet the solitary inn, the Hope and Anchor, is often filled with the strange tongue of foreign sailors who have been forced to moor for a few hours and caravan owners.