Schools
School in Goole was cool. The school system was revamped in 1990, when the Grammar School was renamed as Vermuyden School and the four middle schools became primary schools. Of course, for the older surfers, there used to be the old Secondary Modern School (now Goole College and previously Bartholomew Middle) and the Grammar School. Here is a brief description of the four old middle schools and the Grammar School.
Goole Grammar School - GGS was built in 1909 by the famous Scottish Architect Dougal McMix . Several more ugly additions such as the Science Block (now demolished), the New Block and the Sports Hall were added over the years.
Here in Goole has risen a most beautiful academy built in the best tradition of good greystone architecture and yet consistent with modern requirements. A dignified, inspiring building, well set among lawns and garden beds of bright flowers. It was an education in itself to pass the school
"Puppets in Yorkshire", Walter Wilkinson
Pupils belonged to Tudor, Windsor, Norman or Stuart houses for the inter-class competitions. The highlight of the academic year was Presentation Evening where old pupils came back to collect their exam certificates.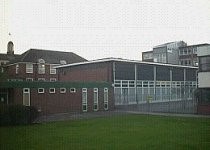 The highlight of the sporting year was the annual cross country run to Airmyn and back. Many runners took shortcuts across a field near Boothferry Bridge, until the teachers started inspecting boots. Anybody with muddy boots had to do it again. The school is now called Vermuyden School and a lot more metal fences have appeared around the building in recent years.
Bartholomew Middle School - The old Secondary Modern School and now Goole College. The pupils were split into groups of Stanhope, Aldham and Creyke for sports events - keeping the names of famous Goole people alive.
Kingsway Middle School
Marshlands Middle School
Boothferry Middle School - The only claims to fame for this school is that they appeared on the TV show "Hold Tight" in the mid-1980s and the M62 passes through their playing fields.
Postcards