The Canal
In the 1690s West Yorkshire had a booming textile industry but struggled to get the cloth to markets across the country. A plan was therefore hatched to make the Aire and Calder rivers navigable to link Leeds and Wakefield to the River Ouse at Airmyn. This work was completed in 1704. This navigation was one of the first in the country and similar ideas were copied across the rest of the country, helping the booming Industrial Revolution.
In the 1760s a rival scheme proposed a canal linking the new Leeds & Liverpool Canal with Selby. To avoid this competition and to accommodate larger loads, the navigation owners proposed building their own canal parallel to the Aire which linked to Selby rather than Airmyn.
By the early 1800s, coastal ships were increasing in size and had problems navigating the twisting Ouse up to Selby. To overcome this, the Knottingley & Goole Canal was opened in 1826. The brand new town of Goole was built at the eastern end where it joined the Ouse. This was the boom time for the canal and shareholder dividends were 150% each year.
In 1825, Thomas Bartholomew became an engineer for the navigation. He, along with his son William, modernised the navigation, by lengthening locks, introducing steam power and designing the compartment boat or "Tom Pudding" system. This was highly profitable carrying millions of tons of Yorkshire coal to Goole for British and continental markets.
A 1699 Act of Parliament allowed the navigation to be constructed. The Aire was to be improved upwards from Weeland with the river below remaining in its natural state. Shallow water and sandbanks on this stretch became a problem and canals, first to Selby and then to Goole were built to bypass it. Unlike previous navigations, the backing was from merchants rather than landowners. This increasing importance of trade and industry was an early step in the start of the Industrial Revolution.
Just upstream of Castleford, a large opencast coalmine was opened near to the navigation. However it was built too close, the banks gave way, and for four days the Aire ran upstream from Castleford into the hole. The canal and river had to be moved westwards to avoid the lake.
The company was nationalised in 1948, becoming part of British Waterways in 1973. In the 1970s, locks were lengthened to the 700-ton standard and new cargo handling facilities were built at Knostrop near Leeds. The canal managed to stay competitive with the railways of the late 19th Century and still continues to carry a large amount of cargo today.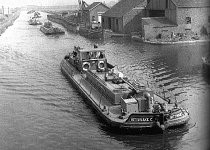 The canal is becoming increasingly important for its leisure use and better facilities, landscaping and water quality has attracted pleasure boating, towpath walking and fishing. Waterside museums, wildlife reserves pubs and restaurants are also adding to the tourist appeal.
Postcards